Benjamin J. Bartlett
From FranaWiki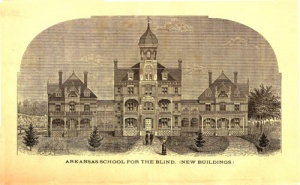 Benjamin J. Bartlett was the founder of Cromwell Architects Engineers in Little Rock, Arkansas.
Bartlett was born on July 17, 1834, in New Hampshire. He moved as a youth to Newburyport, Massachusetts, and studied architecture in the cities of Boston, Chicago, and Des Moines before setting in Little Rock. He served in the 45th Massachusetts Infantry and 4th Heavy Artillery during the Civil War. On April 1, 1885, the State of Arkansas approved the drafting of an architectural plan for a new Arkansas School for the Blind in Little Rock, replacing the Blind School located in Arkadelphia. Bartlett is especially remembered for his plans for churches and schools.
Bartlett was joined by Charles L. Thompson in the firm in 1886. Thompson became an architect and full partner in 1888.
Bartlett married Ruth B. Fitch of Plainfield, New Hampshire, in 1854 and had two children Anna B. and Benjamin W. A. Bartlett.
References
The History of Polk County, Iowa (Union Historical Company, Birdsall, Williams & Co., 1880).
External links