Arkansas Territorial Restoration
From FranaWiki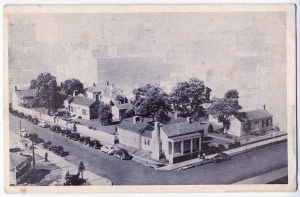 Arkansas Territorial Restoration is the former name of the Historic Arkansas Museum in downtown Little Rock. Located on the former site of several brothels, the creation of a museum, interpretive center, and educational institution for the state was championed by Louise Loughborough in the 1930s. Arkansas Territorial Restoration opened in July 1941.
Territorial Restoration began with four renovated buildings still on their original foundations, and an 1830s log house moved in from nearby. The oldest structure was the Hinderliter Grog Shop, completed in 1827. The museum soon distinguished itself as the state's "primary collector of Arkansas-made decorative, mechanical, and fine arts." Territorial Restoration established a program of "living history" performers who wore distinctive period clothing and interpreted the site for visitors.
The museum established the Arkansas Territorial Restoration Foundation in 1983. In 1998 Territorial Restoration added 11,000 square feet of space for storage, conservation laboratory facilities, and museum offices. Territorial Restoration was renamed the Historic Arkansas Museum in January 2001.
References
Karen Knutson, "Territorial Restoration Looks Back to Founding," Arkansas Democrat-Gazette, June 30, 1991.
External links