Arkansas Baptist College
From FranaWiki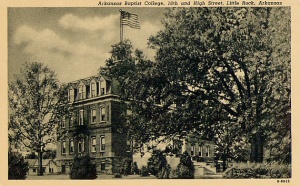 Arkansas Baptist College (ABC) is a private, historically black four-year liberal arts college in Little Rock. The school has an open enrollment policy. The president of ABC is Fitz Hall. The address of Arkansas Baptist College is 1621 Dr. Martin Luther King Drive.
Degree Programs and Academics
History of Arkansas Baptist College
Arkansas Baptist was established in 1884 as The Minister's Institute by the Colored Baptists of the State of Arkansas. It remains the only black, Baptist school of higher education west of the Mississippi River.
Athletics
In addition to academics, spiritual life, and other cultural activities the ABC Buffaloes athletic teams are a source of pride for the school.
Enrollment figures
Arkansas Baptist Presidents
Campus Buildings
Notable former students or graduates
References
External links