Argenta Community Development Corporation
From FranaWiki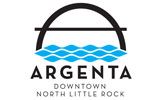 The Argenta Community Development Corporation (CDC) is a non-profit organization that renovates and constructs homes in downtown North Little Rock, Arkansas. Argenta CDC was founded in 1992 following the brutal murder of two residents in 1991. The CDC's mission is to combat crime and gang activity, reverse the trend of declining real estate values, and revitalize the area in and around the Argenta Historic District. The district was placed on the National Register of Historic Places in 1993.
The CDC has redeveloped more than ninety properties in the area at a cost of $12 million. In 1999 the CDC purchased and began renovating thirty-nine private residences and apartment buildings. More recently, the CDC constructed the Argenta Square apartment community in downtown North Little Rock, the largest residential building project in Argenta in a quarter century.
The CDC is operated by six staff members and managed by a sixteen-person board of directors. Partners of Argenta CDC who provide financing or operating funds have included US Bank, State Farm Insurance, Regions Bank, the City of North Little Rock, Bank of the Ozarks, Union Pacific Foundation, Arvest Bank, Arkansas Real Estate Foundation, Metropolitan National Bank, National Bank of Arkansas, NeighborWorks America, Apollo Housing Capital, the State of Arkansas, Pulaski Tech Youth Build, Met-Life Foundation, Twin City Bank, Rockefeller Foundation, Wells Fargo, Freddie Mac, Bank of America, Local Initiatives Support Corporation, and Pulaski Bank.
Other project partners are or have been Habitat for Humanity, Home Depot, Reliant Energy Arkla, First Security Vanadis Capital, and Gardner Memorial United Methodist Church.
The offices of Argenta CDC are located in the historic Ellis Building at 401 Main Street.
References
Edward Klump, "Downtown Calling for Residents," Arkansas Democrat-Gazette, November 6, 2005.
External links