Andina Café and Coffee Roastery
From FranaWiki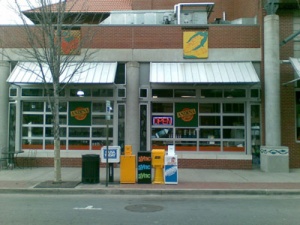 Andina Café and Coffee Roastery in Little Rock's River Market opened six years ago under the ownership of Eduardo Gomez. Being the first coffee shop in the River Market, Gomez set the standards for coffee. Gomez originally came from Columbia and has a great background in the coffee industry as he has been in the business for over seven years.
Andina has coffee made from beans from twenty countries and in forty flavors. Restaurants throughout Little Rock sell Andina's coffee including Brave New Restaurant, Acadia, and Terry's Finer Foods. Andina also serves sandwiches, wraps, salads, soups, home-baked pastries, and desserts. The bistro is well-known for the great potato soup and their variety of cheesecakes. Many people choose to enjoy their coffee, breakfast, and/or lunch outside on the patio. Inside the market is also an enjoyable place to relax due to the entire building being smoke free and the always pleasant atmosphere. Recently, Andina Café was moved to the east end of the building, while Boulevard Bread Company café replaced the original location. Andina Café also offers online shoppers the chance to buy wholesale beans and both professional and commercial coffee equipment.
The Andina Café, under the management of Nita Westbrook, is located in the River Market at 400 President Clinton Ave.
References
External links