Albert Pike Hotel
From FranaWiki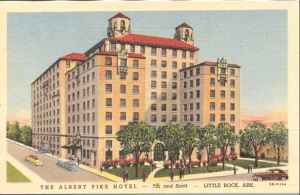 The Albert Pike Hotel is a 1929 Spanish Revival building at 701 South Scott Street in Little Rock, Arkansas. The hotel was owned by the Southwest Hotels chain in the late 1960s. Southwest Hotels also owned the Lafayette Hotel, the Marion Hotel, and the Grady Manning Hotel.
The Albert Pike Hotel, which now serves as an apartment building, is listed on the National Register of Historic Places.
Albert Pike was commander of the Little Rock Guards in the Mexican War.
References
External links