War Memorial Stadium
From FranaWiki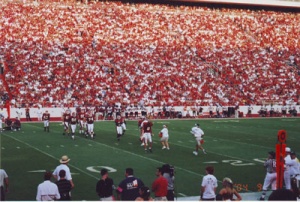 War Memorial Stadium is home to several college football games each year, including two or three home games of the Arkansas Razorbacks. The Delta Classic is played here each year between the University of Arkansas at Pine Bluff and Grambling. The Salt Bowl is an annual contest between Benton High School and Bryant High School played at War Memorial. Arkansas Baptist College and Catholic High School for Boys also play all of their games at the stadium. The 2A, 3A, 4A, 5A, 6A, and 7A State High School Football Playoffs of the Arkansas Activities Association are played here.
The first football game played in the stadium took plece between the University of Arkansas and Abilene Christian on September 18, 1948. The first night game took place on September 20, 1969. The first game on an artificial surface took place on September 12, 1970. Natural grass returned to War Memorial Stadium for the Arkansas-Southern Methodist game played on September 3, 1994.
War Memorial Stadium is located in War Memorial Park at the corner of West Markham and Van Buren streets. The stadium has seating for 53,727 fans.
References
External links