Union Pacific Railroad
From FranaWiki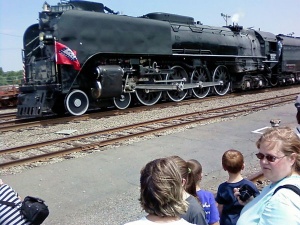 The Union Pacific Railroad is the largest railroad company in the state of Arkansas. The Union Pacific hauls crops, foodstuffs, forest products, minerals, and coal across the state. Some of its largest customers in Arkansas are Arkansas Power & Light Company, Georgia Pacific, Minnesota Mining & Manufacturing, and the Unimin Corporation.
The headquarters for Union Pacific in Arkansas is located at the Downing B. Jenks Locomotive Repair Shop in North Little Rock. The company's second largest freight car hump yard is also located in the city. The company has another hump yard in Pine Bluff and an intermodal operation in Marion.
Union Pacific operates 1,332 miles of track in the state and has 2,731 Arkansas employees. Amtrak Texas Eagle service operates on Union Pacific rails in the state.
History
Union Pacific acquired the assets of the Southern Pacific Transportation Company in 1996, including the historic Cotton Belt Route through the state.
References
External links