Toad Suck Daze
From FranaWiki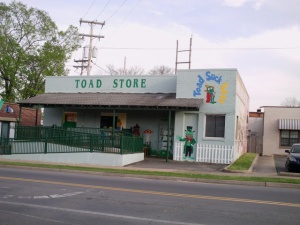 Toad Suck Daze is an annual May festival in Conway, Arkansas. The festival is named for the Toad Suck historic ferry crossing on the Arkansas River just west of the city. Festival proceeds are dedicated to funding academic scholarships for students at local Central Baptist College (CBC), Hendrix College, the University of Central Arkansas (UCA), and the University of Arkansas Community College at Morrilton. Since 1982 the festival has raised $532,000 for such scholarships. The festival has also raised $200,000 in endowment funds for CBC, Hendrix, and UCA.
Toad Suck festival-goers enjoy live events - including music and dance performances - carnival rides, and food vendors. Favorite festival foods include frozen bananas dipped in chocolate and served on sticks, chicken-fried bacon, and Doe's Eat Place tamales. One hundred and seventy vendors populate the annual Toad Market during the festival. The local Toad Store is also open during the festival.
The first Toad Suck Daze was held at the Toad Suck Park on the Arkansas River in 1982, but when the river flooded the park in 1990 the event was moved to downtown Conway. The festival has remained in the downtown district in subsequent years. Regularly scheduled events include the Toad Suck Daze Softball Tournament at the Don Owens Sports Complex, the Toad Suck Daze Golf Tournament at Centennial Valley Country Club, Stuck on a Truck, the Toad Suck SuperStar competition, Toad Suck Car Show, Toad Dome and Courthouse Stage performances, and the annual Toad Races.
The event was named Festival of the Year in 2008. More than 160,000 visitors attended Toad Suck Daze in 2008.
References
Toad Suck Daze Advertising Supplement, River Valley & Ozark Edition, Arkansas Democrat-Gazette, April 26, 2009.
External links