Thomas C. McRae Memorial Sanatorium
From FranaWiki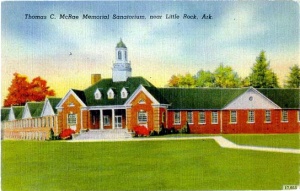 The Thomas C. McRae Memorial Sanatorium for Negroes was established near Alexander, Arkansas, on January 1, 1930. The tuberculosis sanatorium was a segregated facility established under Jim Crow laws. It was the first such black sanatorium in the state.
A plea for establishment of a sanatorium for African Americans in the state was first made by Miss Erle Chambers of the Arkansas Tuberculosis Association in 1919. Governor Thomas C. McRae managed to shepherd a sanatorium bill through the Arkanas General Assembly in 1923, but no funding was forthcoming. Twenty-six thousand dollars was appropriated five years later under the governorship of Harvey Parnell. The sanatorium opened with twenty-six beds.
The first director of the sanatorium was African-American physician Hugh A. Browne of Wheatley-Provident Hospital in Kansas City. In January 1930 the institution opened with twenty-six patients. Later in the decade the Works Progress Administration constructed a new Chambers Building for performing surgeries and as a dining and craft hall. In 1940 the sanatorium began providing a nurses' training program.
In 1960 the sanatorium added a children's building and auxiliary nurses' home building. Browne retired in 1962, three years after suffering a stroke. The patient population at that time had grown to 390. At its height, the sanatorium held 411 beds.
In 1967 the McRae Sanatorium merged with the Booneville State Sanatorium. Booneville closed in 1972 as tuberculosis treatment regimens made the residential facility obsolete.
References
Tom W. Dillard, "Remembering Arkansas," Arkansas Democrat-Gazette, May 14, 2006.
Edwinna Walls Mann, "Some Extinct Black Hospitals of Little Rock and Pulaski County," Pulaski County Historical Review 34 (1986): 2-13.
Mitchell F. Rice and Woodrow Jones, Public Policy and the Black Hospital: From Slavery to Segregation to Integration (Greenwood Publishing Group, 1994), 49.
External links