Difference between revisions of "State of Arkansas"
From FranaWiki
Line 38:
Line 38:
 
 
 

*1836 - 51,809 (9,838 black)

 

*1836 - 51,809 (9,838 black)

 
+
 

*2005 - 2,779,154

 

*2005 - 2,779,154

 
 
---
Revision as of 13:57, 2 January 2010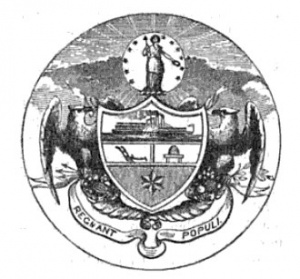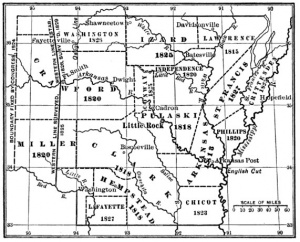 The State of Arkansas was originally a part of the Louisiana Territory acquired from France in 1803. It later was part of Missouri Territory, and in 1813 most of what became the state formed Arkansas County, with Arkansas Post as the county seat. In 1819 the county became the Territory of Arkansas, with a capitol at Arkansas Post. In 1820 the territorial capitol moved to Little Rock.
Arkansas was admitted to the Union on June 15, 1836. It was the twenty-fifth state to join the Union. The state shares borders with Louisiana, Mississippi, Missouri, Oklahoma, Tennessee, and Texas.
Early Inhabitants
European Exploration
Permanent Settlement
Arkansas Territory
Statehood
Antebellum Arkansas
Civil War
Reconstruction
Progressive Era
World War I
Great Depression
World War II
Front Lines of the Civil Rights Struggle
Demographics
According to the U.S. Census Bureau the population of the state in 2005 was 2,779,154. The largest city in the state is Little Rock with a population of 184,081 in 2004.
Arkansas population:
1836 - 51,809 (9,838 black)
1860 - 435,450
2005 - 2,779,154
State Departments, boards, commissions, committees, and councils
Abstractor's Board of Examiners
State Board of Public Accountancy
State Board of Acupuncture and Related Techniques
Administrative Office of the Courts
Department of Aeronautics
Agriculture Department
Alcoholic Beverage Control Board
Alternative Dispute Resolution Commission
Appraiser Licensing and Certification Board
State Board of Architects
Assessment Coordination Department
State Athletic Commission
State Board of Athletic Training
Auctioneers Licensing Board
Auditor
Aviation and Aerospace Commission
Bail Bond Company and Bondsman Licensing Board
State Bank Department
State Board of Barber Examiners
Beef Council
Boll Weevil Eradication Foundation
State Building Services
Burial Association Board
Capitol Arts and Grounds Commission
Capitol Zoning District Commission
Catfish Promotion Board
Cemetery Board
Child Abuse and Neglect Prevention Board
Child Abuse, Rape, Domestic Violence Commission
State Board of Chiropractic Examiners
Civil Air Patrol
State Claims Commission
Code Revision Commission
State Board of Collection Agencies
Commemorative Commission
Department of Community Correction
Contractors Licensing Board
Corn and Grain Sorghum Board
Board of Correction and Community Punishment
Department of Correction
Corrections School System
State Board of Cosmetology
Board of Examiners in Counseling
Court of Appeals Apportionment Commission
Court of Appeals
Court Reporters Licensing Board
Crime Information Center
State Crime Laboratory
Crime Victims Reparations Board
Criminal Detention Facility Review Committee
Dairy Committee
State Board of Dental Examiners
Governors Development Disabilities Council
Development Finance Authority
Dietetics Licensing Board
Early Childhood Commission
Department of Education
State Board of Education
State Board of Election Commissioners
Board of Electrical Examiners of the State of Arkansas
Elevator Safety Board
State Board of Embalmers and Funeral Directors
State Employees Association
Board of Registration for Professional Engineers and Land Surveyors
Entertainers Hall of Fame Board
Ethics Commission
Executive Chief Information Officer
Fair Housing Commission
Department of Finance and Administration
Board of Finance
Fire Prevention Commission
Fire Protection Licensing Board
First Lady Ginger Beebe
State Board of Registration for Foresters
Board of Registration for Professional Geologists
Governor's Commission on Global Warming
Office of Governor
Governors Advisory Council on Aging
Governor's Commission on People with Disabilities
Governor's Mansion Commission
Board of Health Education
Health Services Permit Agency
Department of Health
Board of Hearing Instrument Dispensers
Heating, Ventilation, Air Conditioning and Refrigeration Licensing Board
Home Inspector Registration Board
Information Network of Arkansas
Office of Information Technology
Insurance Department
Interest on Lawyers' Trust Account Foundation Board
State Board of Registered Interior Designers
Judicial Discipline and Disability Commission
Judiciary
Kidney Disease Commission
State Land Information Board
State Board of Landscape Architects
Commission on Law Enforcement Standards and Training
State Board of Law Examiners
Division of Legislative Audit
Bureau of Legislative Research
Legislature
Office of the Lieutenant Governor
Liquefied Petroleum Gas Board
Livestock and Poultry Commission
Local Police and Fire Retirement System
Manufactured Home Commission
Martin Luther King, Jr. Commission
State Board of Massage Therapy
State Medical Board
Military Department, Arkansas National Guard
Minority Health Commission
Motor Vehicle Commission
Commission on National and Community Service
Natural and Cultural Resources Council
Natural Heritage Commission
Natural Resources Commission
State Board of Nursing
Oil and Gas Commission
Board of Dispensing Opticians
State Board of Optometry
State Board of Parole
State Board of Pharmacy
State Board of Physical Therapy
State Plant Board
State Podiatry Examining Board
Pollution Control and Ecology Commission
State Board of Private Career Education
Board of Private Investigators and Private Security Agencies
Board of Examiners in Psychology
Public Defender Commission
Public Employees Retirement System
Racing Commission
Real Estate Commission
Rehabilitation Services
Rice Research and Promotion Board
Rural Development Commission
Department of Rural Services
State Board of Registered Professional Sanitarians
Savings and Loan Board
Arkansas School for the Blind
Arkansas School for the Deaf
Science and Technology Authority
Securities Department
Sentencing Commission
Disability Determination for Social Security Administration
Social Work Licensing Board
State Board of Registration for Soil Classifiers
Soybean Promotion Board
Board of Examiners in Speech-Language Pathology & Audiology
Spinal Cord Commission
State Hospital
Commissioner of State Lands
State Police Commission
State Police
Student Loan Authority
Supreme Court
Teacher Retirement System
Title Insurance Agents' Licensing Board
Tobacco Control Board
Tobacco Settlement Commission
Towing and Recovery Board
Transitional Employment Board
Office of the Treasurer
Department of Veteran Affairs
Veterans Child Welfare Service
Veterinary Medical Examining Board
War Memorial Stadium Commission
Commission on Water Well Construction
Waterways Commission
Wheat Promotion Board
Workers Compensation Commission
State Board of Workforce Education and Career Opportunities
Department of Workforce Education
Workforce Investment Board
Department of Workforce Services
References
External links