Simon Pollard Hughes Jr.
From FranaWiki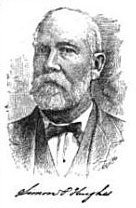 Simon Pollard Hughes Jr. was the fifteenth governor of the State of Arkansas, serving from January 17, 1885, to January 8, 1889.
Simon Hughes Jr. was born in Carthage, Tennessee, to Simon P. and Mary (Hubbard) Hughes on August 14, 1830. Hughes attended Sylvan Academy and Clinton College in Tennessee after the death of his father, supporting himself as a common laborer. Not graduating from Clinton College, he became a schoolteacher for two years, then moved to Monroe County, Arkansas, in 1849 to become a farmer.
In 1854 he engaged in his first successful election, to the post of sheriff. He read law for several years and entered the practice in 1857. Though an opponent of secession he enlisted in the Twenty-Third Arkansas Infantry in 1862 and rose to the rank of lieutenant colonel.
Hughes was elected as a state representative in 1866. Destitute following the close of the war, Hughes entered into private law practice with W. W. Smith in 1867. Under the articles of post-war Reconstruction he lost his elected position. In 1877 he was elected State Attorney General. After one unsuccessful bid in 1878 he was elected governor in 1884 and again in 1886. In 1889 he was elected associate justice to the Arkansas State Supreme Court.
References
The National Cyclopaedia of American Biography: Being the History of the United States as Illustrated in the Lives of the Founders, Builders, and Defenders of the Republic, vol. 10 (J.T. White, 1900), 191.
External links