Sid McMath
From FranaWiki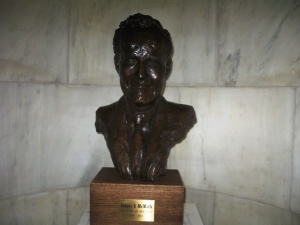 Sidney Sanders McMath served as Democratic governor of the State of Arkansas from 1949 to 1953.
McMath was a member of the U.S. Marines during World War II. He was a veteran of Guadalcanal, and the Solomons and Bougainville campaigns. Upon his return from war McMath opened a law office in Hot Springs, Arkansas. He served two years, from 1946 to 1948, as chief prosecuting attorney in Garland and Montgomery counties before launching a successful campaign for the Governor's Office on a platform of better highways and educational institutions. Under his stewardship Arkansas added 2,300 miles of paved highway using funds made available by a $28 million general obligation bond issue passed by the state's voters in 1949.
McMath campaigned unsuccessfully for a third term as governor after allegations of improprieties in the awarding of state construction contracts in return for party kickbacks.
McMath was born in rural Columbia County, and was a graduate of the University of Arkansas at Fayetteville.
References
James E. Lester, A Man for Arkansas: Sid McMath and the Southern Reform Tradition (Little Rock: Rose Publishing, 1976).
James E. Lester, "Sidney Sanders McMath," in The Governors of Arkansas, eds. Timothy P. Donovon and Willard B. Gatewood, Jr., 202-207 (Fayetteville: The University of Arkansas Press, 1981).
External links