Saint Edward's Catholic Church
From FranaWiki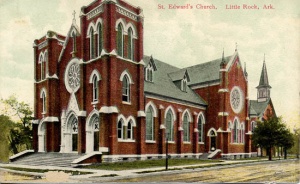 Saint Edward's Catholic Church is located at 823 South Sherman Street in the Diocese of Little Rock. The church is across the street from MacArthur Park.
Saint Edward's was founded by German immigrants in the 1880s. The parish was established in 1883 by Reverend Edward Fitzgerald, then the bishop of Little Rock. A two-story wood-frame building was erected and dedicated at the site on August 26, 1885. The church name honors both Saint Edward and the bishop. The St. Edward's School opened the same year with sixty-four students. Beginning the 1892 instruction was turned over the the Olivetan Benedictine Sisters of Jonesboro.
Groundbreaking on the present church took place on November 10, 1901, under Father Fintan Kraemer. The church was dedicated on July 4, 1905. The original teaching facility no longer exists, and takes place today in a building dedicated in 1955. The Saint Edward Catholic School reached its maximum enrollment in 1964 with 363 students enrolled, many of them bussed from the new Little Rock Air Force Base.
The church is heavily adorned with art. The main oak and onyx altar has sculpted into it depictions of Saint Edward, Saint Catherine, and Saint Henry. On the walls are the 14 Stations of the Way of the Cross.
The church is listed on the National Register of Historic Places. The architect of the building was Charles L. Thompson.
References
External links