Quapaw Indians
From FranaWiki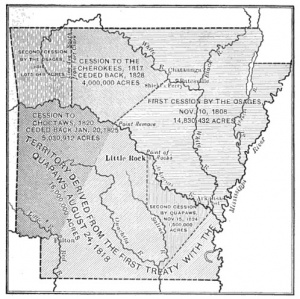 The Quapaw (Ugahxpa, or "Downstream People") are a Native American tribe that may have migrated from the Ohio River Valley to the Lower Mississippi and Arkansas River valleys before the time of European settlement. Other native peoples referred to the Quapaw as the "Akansea," from which the name of the state of Arkansas is derived. The Quapaw Indian Agency is today located in Ottawa County, Oklahoma.
Perhaps the first European explorer to encounter the Quapaw was Hernando de Soto in 1541. De Soto found a heavily fortified Quapaw village in Phillips County. Father Jacques Marquette and Louis Joliet visited the tribe and smoked a peace pipe in July 1673 during the first French exploration of Arkansas. An expedition by René-Robert Cavelier, Sieur de La Salle stopped briefly at four tribal villages - Ugahpahti, Uzutiuhi, Tiwadimañ, and Tañwañzhita - 1682.
A smallpox epidemic devastated the tribe in 1697.
On August 24, 1818, the Quapaw Indians ceded all their lands west of present Rock Street in Little Rock to the United States in preparation for a move of the seat of government to the city from Arkansas Post near the mouth of the Arkansas River. The loss of land amounted to 16 million acres in southern and western Arkansas, including almost all land held between the Arkansas and Red rivers. That same year Pulaski County became part of the Missouri Territory. On November 15, 1824, the tribe ceded the remainder of their lands east of Rock Street, an amount totaling 1.5 million acres. A Quapaw Line monument dedicated to the memory of these two treaties stands today on the southeast corner of Commerce and Ninth streets. The Quapaw were removed by treaty to their present reservation in northeastern Oklahoma in 1834.
References
David W. Baird, The Quapaw Indians: A History of the Downstream People, (Norman: University of Oklahoma Press, 1980).
S. Charles Bolton, "Under Three Flags," in A Documentary History of Arkansas, eds. C. Fred Williams, et al. (Fayetteville: University of Arkansas Press, 1984), p. 3-5.
Isaac Joslin Cox, ed., The Journeys of René-Robert Cavelier, Sieur de La Salle, vol. 1 (New York: Allerton Book Company, 1922).
John Hugh Reynolds, ed., "Marquette's Reception by the Quapaws, 1673," Publications of the Arkansas Historical Association 1 (1906): 500-502.
External links