Pinnacle Mountain State Park
From FranaWiki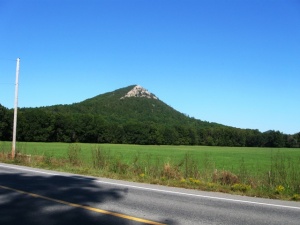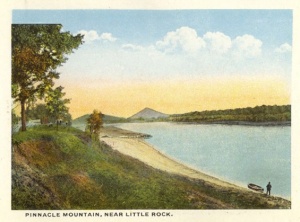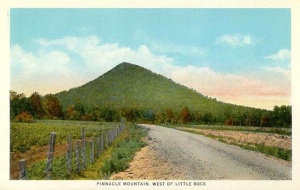 Pinnacle Mountain State Park is a 2,000 acre "day-use" park located in west Little Rock, Arkansas.
This Ouachita Mountain foothills park was dedicated in 1977 as the first state park near a major urban center. Dedicated to environmental education, recreation, and preservation, the park surrounds Pinnacle Mountain, a 1,011 foot cone-shaped peak visible from the I-430 bridge over the Arkansas River. The top of the mountain, which has long been a central Arkansas landmark, may be reached by the gently sloping, switchbacked West Summit Trail or by the steeply ascending East Summit Trail. With this easily recognizable geographic feature, the image of Pinnacle Mountain dominates the masthead of the on-line version of the Arkansas Democrat-Gazette and, until recently, the masthead of the state's largest weekly newspaper, the Arkansas Times. The nearly level Base Trail runs around much of the southern and western base of Pinnacle Mountain. These trails connect to the 223-mile Ouachita National Recreation Trail, and will eventually connect with the Arkansas River Trail which runs on both sides of the river all the way to downtown Little Rock. Scenic vistas overlooking the Arkansas River are easily accessible near the visitor center. Those seeking a more adventurous experience can hike one or more trails, which vary from one to five miles in length.
The park provides many outdoor recreational and educational opportunities, such as, canoeing and boating tours led by park interpreters. This is accomplished through its variety of habitat, which includes towering peaks to lowlands along the Big Maumelle River and Little Maumelle River. Also along the Little Maumelle River, is a tree cultivation area, including a .6-mile barrier-free interpretive trail. In addition, this site called the Arkansas Arboretum covers 71 acres displaying Arkansas's six major natural divisions.
The facilities include picnic sites, two standard pavilions with restrooms, launch ramps, and hiking trails. The park visitor center overlooking the Arkansas River includes exhibits, A/V programs, a meeting room, and gift shop. Camping is not available at Pinnacle Mountain State Park. However, campsites are available at Maumelle Park, located just 3.8 miles east of Ark. 300 on Pinnacle Valley Road.
Park gates at Pinnacle Mountain State Park are closed one hour after sunset. The visitor's center is open from 8 a.m. to 5 p.m. Monday through Saturday and noon to 5 p.m. on Sunday, except that on weekends from April through September the closing hours are extended to 6 p.m. The center is closed on Thanksgiving, December 25th and January 1.
The park address is 11901 Pinnacle Valley Road in Little Rock.
References
External links