Old Mill
From FranaWiki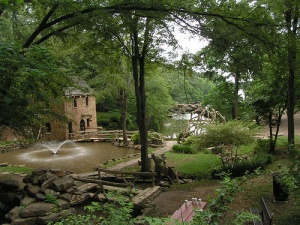 The Old Mill (Pugh's Old Mill) is a water-powered grist mill replica and urban park located in the Lakewood neighborhood of North Little Rock, Arkansas.
The mill is famous for its appearance in the opening shot of the 1939 movie Gone With the Wind.
The mill was commissioned in 1933 by North Little Rock developer Justin Matthews, and is intended as an homage to all the dilapidated mills in the state and not any mill in particular. The individual pieces of concrete that form the milling machinery and six adjacent bridges were manufactured by Mexico City sculptor Dionico Rodriguez. The mill itself was designed by Frank Carmean. In 1991 Rodriguez's great-nephew Carlos Cortes made repairs to the Old Mill.
The mill, located in T. R. Pugh Memorial Park, has been on the National Register of Historic Places since 1986. Admission to the mill and park is free.
References
Patsy Pittman Light, Capturing Nature: The Cement Sculpture of Dionicio Rodgriguez (College Station: Texas A&M University Press, 2008).
Bill Worthen, "Artist's Old Mill in North Little Rock Grist for Book," Arkansas Democrat-Gazette, July 27, 2008.
External links