Murphy Keller Education Center
From FranaWiki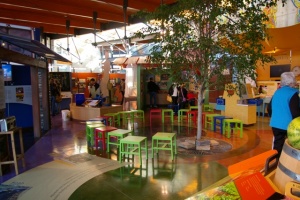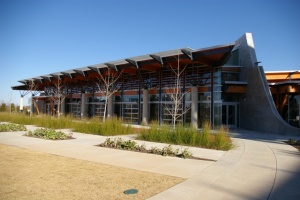 The Polly Murphy & Christoph Keller Jr. Education Center is a hunger educational facility next door to the Little Rock headquarters of Heifer International. The center is a $13.5 million, 16,000 square-foot project completed in 2009. The center contains an exhibit hall, conference rooms, Fair Trade gift shop, and café. It is surrounded by wetlands and lands seeded in wild grasses. The center is the second phase in a three phase project that began with the completion of the Little Rock Heifer International headquarters building in March 2006, and will end with the creation of a Global Village.
In 2004 former Clinton Foundation president Skip Rutherford called the facility "a Third World version of Epcot Center." In 2008 Heifer spokesperson Ray White said, "Having an education building is really going to open the door for the public to come and have an experience - a deep experience we hope - of learning about the solutions to these very serious problems of world hunger and poverty." Because the Global Village is expected to one day attract a quarter of a million people each year, the education center is being designed as "the terminal building where in the future, people will buy their ticket to the world," said architect Reese Rowland in 2008.
Heifer facilities director Eric Swindle describes the wetlands as "irrigation for trees" and a "natural filtration system." The center is being built to Green Globes standards for green building. Green Globes is a verification system created by the Portland, Oregon, based Green Building Initiative.
Groundbreaking on the center, named for Polly Murphy Keller Winter and Christoph Keller Jr., began in November 2007. The address of the facility is 1 World Avenue in Little Rock.
References
Larry Copeland, "City Takes Cue from Comeback Kid: Clinton Library Breathes Life into Struggling Little Rock," USA Today, October 8, 2004.
Michelle Hillen, "Building Work at Heifer Site Kicks Off," Arkansas Democrat-Gazette, March 10, 2008.
External links