Metroplan
From FranaWiki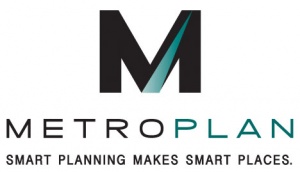 Metroplan is a regional transportation organization located in Little Rock, Arkansas. Metroplan was formed in 1955 by mayors, judges, transportation officials, and local leaders "acting out of necessity and inspired by the principle that the metropolitan area was one community and that the problems and solutions of each entity were shared by all. The obligation of each member of Metroplan is to the other members, all units of local government, and each having an impact on all the others and reacting to their impacts."
Metroplan was formed out of necessity in 1955 after the U.S. Air Force announced its interest in building a Little Rock Air Force Base near Jacksonville in northeast Pulaski County. Notes historian Harry T. Williams, "The problem lay in the fact that no single government agency or group could speak as one for the various Pulaski County governmental units. In short, there was no metropolitan area planning authority." Between 1955 and 1970 the organization was called the Metropolitan Area Planning Commission, and received federal comprehensive planning money made available under the Housing Act of 1954.
Metroplan sponsors Central Arkansas Rideshare (CAR) which helps match up commuters and form carpools.
In October 2007 Metroplan began studying the possibility of extending the River Rail streetcar line from the eastern terminus on the grounds of the Clinton Presidential Center to the Little Rock National Airport. The airport is approximately three miles east of the Clinton Library.
The transportation planner for Metroplan is John Hoffpauer.
The president of the board of directors for Metroplan is Mayor Tab Townsell of Conway. The vice president is Mayor Art Brooke of Ward. The secretary is Mayor Mark Stodola of Little Rock. The Treasurer is Mayor Larry Mitchell of Bryant. Other members of the board of directors of Metroplan are Mayor Randy Holland (Mayflower), Judge Lanny Fite (Saline County), Mayor Eddie Joe Williams (Cabot), Mayor Mike Watson (Maumelle), Mayor Larrance Davis (Shannon Hills), Mayor Richard Holland (Benton), Judge Charlie Troutman (Lonoke County), Judge Preston Scroggin (Faulkner County), Mayor Virginia Hillman (Sherwood), Mayor Lorraine Smith (Wrightsville), Judge Floyd G. "Buddy" Villines (Pulaski County), Mrs. Betty Wineland (Central Arkansas Transit Authority), Mayor Patrick Hays (North Little Rock), Mayor Shirley Johnson (Alexander), Mayor Harry Light (Cammack Village), Mayor Ken Belote (Vilonia), Mayor Terry Don Robinson (Wooster), Mayor Bernadette Chamberlain (Austin), Mayor Jeff Arey (Haskell), Mayor Tommy Swaim (Jacksonville), Mr. Scott Bennett (Arkansas Highway and Transportation Department), Mr. Kenneth Anderson (Bauxite), Mr. Paul Day (Hot Springs Village), Judge Kemp Nall (Grant County), and Mayor Joe Wise (Sheridan).
References
Harry T. Williams, Metroplan: The Formative Years, 1955 to 1970: An Analytical History of the Metropolitan Area Planning Commission of Pulaski County, (Little Rock, AR: Metroplan, July 15, 1989).
External links