McLellan's
From FranaWiki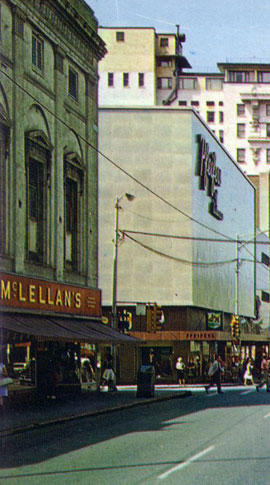 McLellan's was a grocery and variety store at 600-606 Main Street in downtown Little Rock. The store opened in November 1949 with 225 regular employees and closed on December 24, 1975. AG Stores operated a grocery in the basement of the building. It also closed in 1975, the last grocery to survive in the downtown district. The last McLellan's store manager was James H. Coley, who noted that the store closed because the building had become decrepit and because of the high cost of assessments supporting the planned Metrocentre pedestrian mall.
The store was originally located at 604 Main Street where it opened shortly after the end of World War II. McLellan's was a chain owned by McCrory Corporation of York, Pennsylvania. The company also owned McCrory's in McCain Mall.
References
William Green, "McLellan's Closes, Marks End of Era for Store on Main," Arkansas Gazette, December 25, 1975.
"Main Street Fixture to Close Doors," Arkansas Gazette, December 3, 1975.
Mike Trimble, "30 Years Create Downtown Differences," Arkansas Gazette, May 2, 1982.
External links