McDonald's No. 08045
From FranaWiki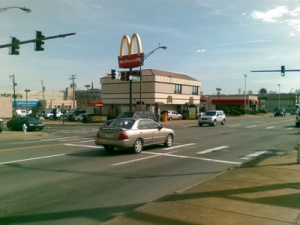 McDonald's No. 08045 is a privately owned and run franchise of the McDonald's fast food restaurant chain, located in downtown Little Rock, Arkansas.
The restaurant received notoriety for visits by then-Governor Bill Clinton of Arkansas. During the 1992 presidential campaign, Saturday Night Live ran a skit parodying Clinton's frequenting of this specific eatery while on jogs from the Governor's Mansion. Unlike the majority of one-story McDonald's franchises in Arkansas, no. 08045 is memorable for its uniquely spacious, two-story interior. In 2006 the establishment was noted as the 24th highest grossing restaurant in Little Rock, with gross receipts of $2,170,328.
Currently, the site is also equipped with a Wifi hotspot for Internet access. The street address of the store is 701 Broadway Street. The location was formerly occupied by a Snappy Service restaurant into the mid-1960s. The first McDonald's opened in the city on University Avenue across the street from UALR in the 1960s.
References
External links