McAlister Hall
From FranaWiki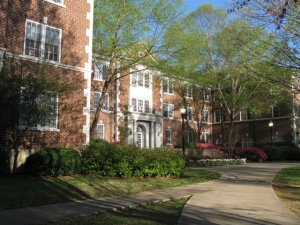 McAlister Hall on the University of Central Arkansas campus is the home of the UCA Department of Art, UCA Department of Family and Consumer Sciences, and the UCA Honors College.
McAlister Hall was constructed in 1934 when the school was known as Arkansas State Teachers College (ASTC). The hall is named for then-university president Heber L. McAlister. ASTC's trustees at the time of the hall's dedication were W. E. Phipps, Roy Leonard, Jo Frauenthal, S. T. Smith, E. L. Compere, J. H. Andrews, and J. Oscar Humphrey.
The hall was designed by the architectural firm Wittenberg & Delony. The general contractor was George H. Burden. The electrical and heating contractor was Brooks Turner. Electrical services were provided by I. K. Electric Company.
McAlister Hall was renovated and rededicated in 1991 under the presidency of Winfred L. Thompson. Design work on the refurbished building was done by Wittenberg, Delony, and Davidson. The contractor was Vratsinas Construction Company.
References
External links