LEED certification
From FranaWiki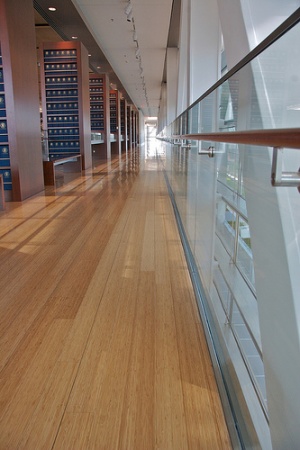 LEED® (Leadership in Energy and Environmental Design) certification is offered by the U.S. Green Building Council. LEED certification is granted to construction projects that reduce consumption of energy and building materials, create healthy and sustainable workplaces, reduce operating and maintenance costs, and lower pressure on local roads and utilities.
When the Clinton Library opened in 2004 the Green Building Council awarded it Silver Certification for New Construction (LEED-NC). The Clinton Library is the first presidential library to receive LEED certification, and the first such building in the state of Arkansas. Consultants on the Library's bid for LEED certification were Steven Winter Associates. The building features special Pilkington glass, bamboo flooring and ceilings, recycled aluminum cladding, natural lighting, reduced-flow plumbing fixtures, and 306 rooftop solar panels yielding 66,000 kilowatt hours of electricity per year. The building also has a ten mile long radiant floor coil heating and cooling system embedded in a radiant floor. As a consequence the Library uses 34 percent less energy than comparable buildings and 23 percent less potable water.
In order to encourage alternative transportation some parking spots outside the building feature electric vehicle charging stations. There are also abundant bicycle racks and dressing rooms for riders. The Clinton Library is also located on mass transit bus lines and the River Rail electric streetcar route.
In November 2007 the Clinton Library received Platinum Certification under the LEED® for Existing Buildings (LEED-EB) Rating System. The nonprofit Leonardo Academy provided assistance to the Clinton Library in its push for Platinum status.
References
"Clinton Presidential Center Attains LEED Silver," Environmental Design + Construction, 8.2 (March 2005): 8.
John Henry, "The Buzzword in Buildings is 'Green,'" Arkansas Business, October 11, 2004.
External links