Hope Visitor Center and Museum
From FranaWiki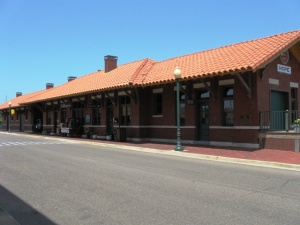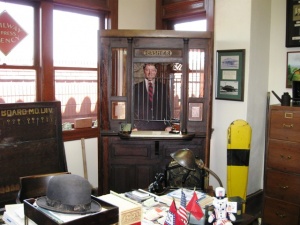 The Hope Visitor Center and Museum is located in the restored Iron Mountain/Missouri-Pacific Railroad depot in Hope, Arkansas. The museum houses exhibits on Bill Clinton and Mike Huckabee's early life in the city. Other exhibits provide information on the local Watermelon Festival, Hope city attractions, and the Missouri-Pacific railroad itself.
The original depot built in 1912 had three waiting rooms, a ticket office, a baggage room, and a Railway Express room. The last passenger train stopped at the depot in 1971. For two decades the station was used to store freight and for rail maintenance.
The genesis of the idea for a museum at the railroad depot came in 1992 after Clinton used the building as a backdrop for a video shown at that year's Democratic National Convention. A photo shot at the same time was also featured in Time Magazine.
The depot reopened as a museum and visitor center in January 1996. The visitor center provides maps to local Clinton attractions, including the Clinton Birthplace Home, his second "boyhood" home at 321 East 13th Street, the Clinton birthplace marker, the former Brookwood Public School attended by the president, and Rose Hill Cemetery where Virginia Kelley, mother of the president, is interred.
There is no charge for admission to the Hope Visitor Center and Museum, located at the corner of South Main & Division streets. The center is open year-round from 8:30 AM to 5 PM from Monday-Friday, 9 AM to 5 PM on Saturday, and 1 PM to 4 PM on Sunday. The manager of the visitor center is Gary Johnson.
References
External links