Difference between revisions of "Holiday Inn"
From FranaWiki
 

Line 4:
Line 4:
 
 
 

==External links==

 

==External links==

 
+
 
+
 
+
 
+
 
+
 
+
 
+
 
+
 
+
 
+
 
+
 
+
 
+
 
+
 
+
 
+
 
+
 
 
 

[[Category:Hotels]]

 

[[Category:Hotels]]
---
Revision as of 19:34, 14 March 2009
Holiday Inn is a national hotel chain with locations in central Arkansas.
References
External links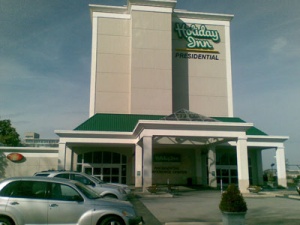 The Holiday Inn Presidential Conference Center is an 150-room, 11-suite hotel located on I-30 in downtown Little Rock. The building is eight stories tall. The 34-year old hotel was renovated between March 2001 and April 2003 for $11 million. The hotel lobby features an exhibit of Clinton-era memorabilia.
The hotel was constructed as a Sheraton Hotel in 1974. It was a Best Western before its purchase by Larry Carpenter in 2001. President Clinton established it as the Clinton Library's conference center of choice in February 2003. The hotel has more than 3,000 square feet of meeting space. Meeting rooms are named after recent presidents. In addition to a Clinton Room, there is a Bush Room, and a Reagan Room. The fourth meeting room is called the Liberty Room. When the walls between the rooms are pulled back, the combined space forms the First Ladies' Ballroom. The restaurant inside the Holiday Inn is called Camp David.
The hotel also has a swimming pool, fitness center, and business center.
References
"Clinton Library Gains a Totally Redone HQ Hotel," Meeting News 27.6 (April 21, 2003): 20.
External links