Difference between revisions of "Hillary Rodham Clinton"
From FranaWiki
 

Line 15:
Line 15:
 
 
 

==External links==

 

==External links==

 
+
 
+
 
 
 

[[Category:Living people]]

 

[[Category:Living people]]

 

[[Category:Politicians]]

 

[[Category:Politicians]]
---
Latest revision as of 10:07, 8 August 2012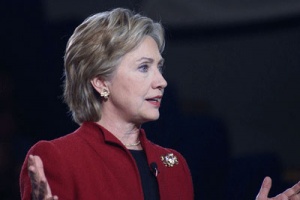 Hillary Rodham Clinton is a U.S. Senator from New York and a former First Lady to Bill Clinton. She is currently running for President of the United States on the Democratic ticket in 2008.
Hillary Clinton was born Hillary Diane Rodham on October 26, 1947, in Chicago, Illinois. She received her bachelor's degree from Wellesley College in 1969, and her juris doctorate from Yale Law School in 1973. In 1974 she followed Bill Clinton to Fayetteville, Arkansas, where she served on the faculty of the University of Arkansas School of Law. She married Bill one year later. In 1977 she followed her husband to Little Rock, joining the Rose Law Firm where she became the first female partner in 1979. She worked in the areas of intellectual property and patent law, and became known as a prominent "rainmaker" for her ability to bring in new clients. Also in 1977 she co-founded Arkansas Advocates for Children and Families in 1977. In 1980 she gave birth to Chelsea Clinton. As First Lady of Arkansas, Hillary Clinton chaired the Arkansas Educational Standards Committee for ten years, from 1982 to 1992. As First Lady of the United States she championed the failed Clinton health care plan, and the successful State Children's Health Insurance Program and Adoption and Safe Families Act. In 1996 she became embroiled in the Whitewater land deal crisis, but was never charged with a crime. She was elected U.S. Senator from New York in 2000.
Relationship to the Clinton Presidential Center
Hillary Clinton remarked at the 2004 dedication ceremony that the Clinton Library was "like my husband - it's open, it's expansive, it's welcoming, it's filled with light." Clinton may have had a hand in the selection of the Clinton Library museum exhibits designer Ralph Appelbaum. Senator Clinton wrote the preface to Appelbaum's exhibit catalog for "Hands and Minds" at the Corcoran Gallery of Art.
In the run-up to the presidential election of 2008 the Republican National Party accused the archives of the Clinton Library of obstructing the release of papers related to Hillary Clinton's role in the failed health-care policy offered in her husband's first term in office. In March 2008 archivists at the Library approved the release of 10,000 pages daily schedules of her activities at First Lady.
References
"Archives to Release Clinton Schedules," Arkansas Democrat-Gazette, March 4, 2008.
External links