Forest Park Theater
From FranaWiki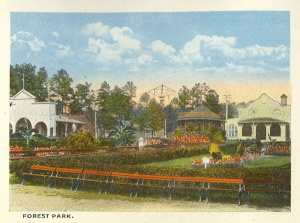 Forest Park Theater was an summer venue for a variety of shows in Little Rock's Forest Park. The theater was dedicated in 1904. The legendary French stage actress Sarah Bernhardt once delivered a performance of Camille at the theater.
Forest Park was a suburban recreational area located at the western terminus of the old streetcar line in the Hillcrest neighborhood of Little Rock. Forest Park declined in popularity as the automobile brought more distant attractions into reach. In 1941 the park was converted into a residential neighborhood of single-family detached homes.
References
Arkansas Writers' Project, Arkansas: A Guide to the State (Works Progress Administration, 1941), 172.
Jerry Dean, "In Early Days, Hillcrest was 'Way Out West,'" Arkansas Democrat-Gazette, June 15, 1989.
"National Affairs: Just Around the Backbone of North America," Time Magazine, October 7, 1957.
External links