Dave Ward
From FranaWiki

David Henry "Dave" Ward was a blacksmith and founder of the Ward Body Works in Conway, Arkansas.
Ward was born to Gaylord Oscar Ward and Lottie P. Ward on September 1, 1904, in Wolfe City, Texas, the fourth child of nine, including seven brothers and a sister. His father was a blacksmith, a sawmill operator, and a Nazarene preacher. All of the children of the household were schooled on the importance of independent entrepreneurship, and all started their own businesses.
Dave Ward had no formal education beyond the sixth grade, apparently not taking to "book learning." At age thirteen the Wards moved to Beryl in Faulkner County. By age sixteen he was working as a rock crusher operator for the local roads department. In 1921 he began hauling freight between Vilonia and Conway with a Ford Model T truck. Beginning in 1922 Ward moved back and forth between Arkansas and Texas, alternately helping in his father's blacksmith shop, but also picking cotton, wildcatting, welding, and laying oil pipelines. He also worked briefly on the assembly line at the Ford Motor Company plant in Greenville, Texas. In 1928 he married Bertha Cazort of Vilonia and moved with his new bride to Conway. He first worked as a blacksmith for the Williams Brothers Pipe Line Company, but in October 1931 began blacksmithing in Conway in earnest. He opened his own eight hundred square foot blacksmith shop on the 900 block of Harrison Street in his adopted hometown in May 1933. The shop cost him $50. Bertha worked in the dress shop on the second floor above Greeson's Drug Store. She also served as the blacksmith shop's bookkeeper.
In his shop in 1933 Ward raised the roof on a "wood bodied" school bus for Carl Brady of the Southside School District using, it is said, only a hammer, square, and a pair of metal snips. He formally entered the school bus manufacturing business in 1936 with $125. Ward raised additional capital and payroll for three employees by replacing the shoes on up to one hundred horses each day. In 1936 he began manufacturing all-steel bus bodies, one of the first in the country to do so. His first bus had single benches running along each side of the interior and windows made of glass and chicken wire. Ward sold at least two bodies that year - one to the Hermitage School District in Warren, Arkansas, and another to the Greenbrier School District - but continued in blacksmithing until 1939, when he began building bus bodies full time.
Ward's company grew rapidly as demand for school buses escalated. He sited a new bus-building operation at 805 Harkrider Avenue in the downtown district. The plant grew from an initial size of 10,000 square feet to over 100,000 square feet. Expansion of Ward Industries operations led to the establishment in 1956 of the patented bus window maker C. S. Sash Company and the Ward School Furniture Company in Conway. In 1950 he established a printing plant, entering into a lasting, and bitter struggle with the local Log Cabin Democrat newspaper. He also pursued his business in Mexico City, where he opened a bus plant in February 1947. The Mexico City plant closed in 1954 as cross-border operations became more difficult. To replace this plant Ward built a new Ward Body Works facility in Austin, Texas. The 71,600 square foot Austin plant opened in March 1951, receiving parts for making buses from the Conway plant.
By the early 1950s the company was producing revenues of $2.5 million a year. In 1953 sales reached $5 million and the two plants in Conway and Austin manufactured two thousand bus bodies. The steel was procured from Jones & Laughlin which floated the product down the Mississippi. Ward School Furniture was sold to Chamberlin School Furniture in the mid-1950s.
In 1954 Ward moved his Conway assembly line operations from Harkrider Avenue to a 114,000 square foot plant with about 170 employees just south of the city limits on Arkansas Highway 65. The fabricating and tool-and-die departments were moved south in March 1957. Sixteen parts presses and a cold-forming mill manufactured parts weighing from one-half to four-hundred tons at the new plant. The plant also had three squaring shears of six to twelve feet in length that could cut through quarter inch steel. The tool-and-die department relied on a Do-All Friction Saw. The assembly line, fifteen hundred feet in length, was populated by fourteen resistant welding machines, seventy-five arc welding machines, an inert gas welder, and numerous jigs and fixtures. The company also held a paint room and drive-in bake oven. The factory could churn out one hundred bodies each week, and the assembly line filled to capacity with forty-five bodies at any given time. Bodies were mounted on Ford and GM chasses, and then driven directly to buyers. His bus bodies were so tough that one involved in accident in which it did a "triple somersault off an embankment" with forty passengers did not collapse. The company in the 1950s expanded beyond school buses, to the manufacture of air-conditioned chicken hatchery and mass transit buses. In 1960 the company added sightseeing buses to its line.
In the 1960s the company began an innovative program of computer-aided manufacturing with IBM 360s. In 1968 C.S. Sach became Surelite.
The company passed into the hands of his eldest son Charles Ward in 1968. Charles had worked for Ward Body Works in Austin since quitting school in 1959. The Austin plant remained open until 1970, when it was replaced with a new 41,000 square foot plant in Darlington, Pennsylvania. All parts used in assembly at the Pennsylvania plant continued to come directly from the Conway plant. At about the same time the United Auto Workers organized a union in both plants. By 1973 Ward was the largest school bus manufacturer in the world, with a twenty-five percent market share. In January of that year Charles Ward and his brother Stephen Ward purchased Coachette from Texas businessman Carl Graham and moved the Lo-boy and Hi-boy van-type passenger bus maker into an old Surelite building. A second plant opened in Beaver Falls, Pennsylvania, but this operation failed in 1975. The company, then known as Ward School Bus Manufacturing, went into Chapter 11 bankruptcy in 1979. The plant in Conway is now owned by the IC Corporation.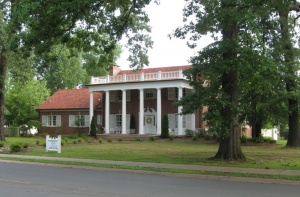 Ward's daughter Wanda Jean Stephens is a 1958 graduate of the Arkansas School of Medicine. She was employed thereafter by the Arkansas Children's Colony in Conway. The Wards also had a son Stephen Austin. Ward was Conway School Board member from 1946 to 1958, and a longtime trustee of the local First Church of the Nazarene. He considered a run for Arkansas governor in 1946, but dropped out lacking sufficient backing. He remained involved in local and state Democratic politics. The Ward family mansion is located at 1912 Caldwell Street in Conway. The brick-and-steel mansion, dating to 1951, is now under commercial operation as the Ward Mansion Bed & Breakfast.
Dave Ward Drive in Conway (also known as Arkansas Highway 286) is named for the bus company founder.
References
Barry Beck, "Ward Industries, Inc.: A Historical Study," Faulkner Facts and Fiddlings 16.4 (Winter 1974): 67-83.
Robert B. Colborn, "Bus Bonanza from Blacksmith's Shop," Business Week 1071 (March 11, 1950): 56-60.
John Henry, "Arkansas' 'Auto' Plant Still Going Strong After 75 years," Arkansas Business, June 30, 2008.
Harold B. Johnson, "A History of Dave Ward and His Company," M.S.E. thesis, Arkansas State Teachers College, 1960.
Toby Manthey, "Maker of School Buses Lays Off 170 in Conway," Arkansas Democrat-Gazette, March 27, 2009
Joe McGee, "Ward Body Works: Conway's First Big Industry," Log Cabin Democrat, June 21, 1955.
Ward Body Works, Inc., Ward, the Champion of Transportation: Designed for the Safety of Your Children (Conway, AR: The Company, 1954).
Fay Williams, "Are You Crazy as Dave Ward?" Arkansas Democrat (Sunday Magazine), October 21, 1951.
Fay Williams, Arkansans of the Years, vol. 2 (Little Rock, AR, 1952), 424-430.
External links