Difference between revisions of "Central Baptist College"
From FranaWiki
 

Line 58:
Line 58:
 

====Enrollment figures====

 

====Enrollment figures====

 
 
−

As of the 2011 spring semester, the enrollment at CBC is 677 students. There are 419 traditional students and 258 adult students enrolled in the college's PACE program.

+

As of the 2011 spring semester, the enrollment at CBC is 677 students. There are 419 traditional students and 258 adult students enrolled in the college's PACE program.

 
+

 

 
+
 
+

 

 
+
 
+

 

 
+
 
 
 

====Presidents====

 

====Presidents====

Line 90:
Line 96:
 
 
 

=====Burgess Auditorium=====

 

=====Burgess Auditorium=====

 
+
 
+
 
+
 
+
 
 
 

====Notable former students or graduates====

 

====Notable former students or graduates====

Line 121:
Line 131:
 
 
 

*[http://www.facebook.com/pages/Conway-AR/Central-Baptist-College/21964258601 Central Baptist College on Facebook]

 

*[http://www.facebook.com/pages/Conway-AR/Central-Baptist-College/21964258601 Central Baptist College on Facebook]

 
+
 
 
 

[[Category:Higher Education]]

 

[[Category:Higher Education]]
---
Latest revision as of 00:41, 1 March 2011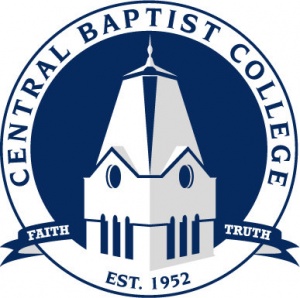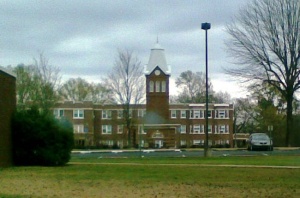 Central Baptist College (CBC) in Conway, Arkansas, was founded in 1952 as Conway Baptist College. The school is located at 1501 College Avenue in Conway, Arkansas. The school grounds were originally occupied by Central College for women, which was established in 1892 and closed in the 1947-1948 school year. Central Baptist College is an affiliate of the Baptist Missionary Association of Arkansas.
Mission and Purposes
Mission: Central Baptist College, a community of learners dedicated to the integration of Christian faith and academic excellence, exists to instill in our students a commitment to lifelong learning, spiritual development and service to God, through a program characterized by academic rigor, practical experience, and spiritual direction in a Christ focused environment.
Purposes:
1. To create an environment that fosters understanding, appreciation and a love for God's word.
2. To create a campus community that supports students and faculty in the acquisition of knowledge.
3. To create excellent programs of study that challenge students and provide practical experience in the chosen discipline.
4. To create an understanding among faculty and students of the need for lifelong learning.
5. To create opportunities for spiritual growth and service to God.
Degree programs and academics
CBC is accredited by The Higher Learning Commission of the North Central Association of Colleges and Schools. CBC offers associate of arts degrees in business, education, general education, mathematics, music, office administration, pastoral studies, and religious education. The college also offers 22 bachelor's degrees which include church music, youth ministry, and bible studies with emphases in missions, pastoral studies, religious education, biology, business administration and 12 intercollegiate sports.
CBC also puts a large emphasis on its adult degree program, PACE, which meets during the evenings and accommodates those who either never completed their degree or do not have the time to be a full-time student.
History
When the Arkansas Baptist State Convention occurred in 1891, they appointed a committee to consider starting a educational institution for women. The board appointed Colonel George W. Bruce to be the first Chairman of the Board, and the committee then decided to acquire the current CBC property in Conway as a location for this new institution.
The school was named Central College and opened first in 1892 in a Baptist church while the construction of Main Building on campus was still underway. The overall goal for Central College was to train women in skills for use in the home, church, and work.
The Central College did very well until it was closed in 1947. The campus was left closed and empty for 5 years until it was purchased in 1952 by the Arkansas Missionary Baptist Association for $85,000. The Association moved the school they had started in 1950 in Little Rock known as the Arkansas Baptist Extension School to the former Central College property in Conway. The Association opened the school back up as Conway Baptist College in the fall of 1952. Dr. D.N. Jackson was named the first president of the college. The name of the college was officially changed to its current title, Central Baptist College, in 1962.
Athletics
The mascot of Central Baptist College is the Mustang. CBC is a member of the National Christian College Athletic Association and the National Association of Intercollegiate Athletics. The Mustangs compete in NAIA Division II athletics. CBC has a total of twelve NAIA athletic teams. The Mustangs recently earned their first national championship in school history, winning the 2010 NCCAA Softball Title.
Men's Sports
The Baptist baseball team recruits heavily in the state of Arkansas. On their 2011 roster 39 of the 45 players are native Arkansans. The head coach is Lyle Middleton assisted by Trevor Durham. Durham's brother, Jakeb, played for Central Baptist from 2008-2009 before transferring to UALR.
Cross Country
Soccer
Wrestling
Golf
Women's Sports
Basketball
Cross Country
Volleyball
Softball
Soccer
Golf
Enrollment figures
As of the 2011 spring semester, the enrollment at CBC is 677 students. There are 419 traditional students and 258 adult students enrolled in the college's PACE program. 84% of these students are full-time. 53% of students are male, 77% are white, 16% black, and 77% come from in-state. 38% of students are older than 25.
65% of those who apply are admitted and 94% of those accepted enroll.
Within 150% of normal time for completion of majors, 27% of students who came in in 2003 had graduated and 12% had transferred out.
The 25th percentile ACT composite score of enrollees is 19 and the 75th is 24.
Presidents
The first president of CBC was Dr. D.N. Jackson, who was appointed in 1952.
The current president of CBC is Terry Kimbrow. Growing up in Poplar Bluff Missouri, Kimbrow married his highschool sweetheart, Patricia, right out of high school. He immediately went into the workforce as a grocery bagger at Safeway stores. He followed Safeway jobs into Tennessee and then to Arkansas. At the age of 23, Kimbrow became the youngest store manager in the district. He met his spiritual mentor, Martin Jameson, a pastor of Caldwell Baptist Church, when he was working. Thanks to the guidance of his pastor, Kimbrow decided to persue a career in the ministry. He moved himself and his family to Conway in 1987 and started college at Central Baptist College. in 1993 he became Vice president of institutional advancement. At first, Kimbrow had no desire to be president, but applied at the last minute due to the urgings of faculty, staff, and students.
He has served as president of CBC since 2004. He has a Master's Degree from Arkansas Tech University. Under Kimbrow's leadership, CBC has set enrollment records and has also set plans to extend the campus of CBC to make way for additional enrollment. His plan, called "Vision 2020: A Miracle in the Making" hopes to extend the student population of CBC to 2,020 students by the year 2020 through multiple construction projects. While Kimbrow has served as president, CBC has received a record level of donations to the university, including a 5 million dollar donation in 2011, which will be received over a three-year period. The donation will be used in a facilities improvement plan which is to be used in the construction of two academic buildings, parking areas, residence halls, an all-encompassing sports facility, and the expansion and renovation of the library. One of the academic buildings will be a three-floor, 36,000-square foot building on College and Boulevard. The first floor will house student services and administrative offices. The second floor will consist of Professional Adult College Education and the office of online studies. The third floor will be designated for bible studies and missions. Conway Corp has pledged the first gift of $75000.
Campus buildings
Ratliff Bell Tower
Probably the most well-known building on the CBC campus is the Ratliff Bell Tower.
The tower was designed in the fashion of Old Main (not to be confused with the University of Central Arkansas building of the same name) and lies in the center of the campus. Ratliff Bell Tower was completed in early 2008, with its dedication ceremony being held on February 9, 2008. Source and pictures: http://www.cbc.edu/development_alumni.aspx?id=1352
The tower was named in memory of Tom Ratliff and in honor of Jo Ann Ratliff. It is at the heart of the college's donation campaign, with the "Buy-A-Brick" campaign specifically being promoted. The campaign allows one to etch their name (or honor someone) with a brick in the walkway, similar to the sidewalk in front of the UCA Student Center. Individuals can also have a pillar named or have a stone embedded in their "Walk of Honor".
Mabee Student Services Complex
The Mabee Student Services Complex is located at the center of the CBC campus and is home to much of campus life. The cafeteria, admissions office, bookstore, and financial aid department all reside within. The complex also holds a game room, a community room, and a snack bar for both students and the community.
Bruce Hall
Bruce Hall is the women's on campus residence hall. This hall offers both single and double occupancy rooms. It was constructed to accommodate 110 female students.
Williams Hall
Williams Hall is the men's on campus residence hall. It also offers both singe and double occupancy rooms. However, showers are located at the end of each wing and are shared. It was constructed to accommodate 106 male students.
Burgess Auditorium
Financial and Scholarship Info
The estimated 2010-2011 tuition and fees to attend CBC is $10,760. That is an increase of 8.1% from 2009-2010. Room and board is estimated at $7,000 for those that live on campus. Total expenses for living on campus comes to $21,232 which is a 7.5% increase from 2009-2010. However, 76% of students receive grants or some sort of scholarship averaging $7,790.
Notable former students or graduates
Student Organizations
CBC is home to numerous student organizations both with a religious and educational focus.
Campus Activities Board
Central Singers
Choir
Fellowship of Christian Athletes
Handbells
Horizon Business Association
Ministers Association
Pi Lambda
Student Body Association/Town Hall Meetings
Student Men's Organization
Student Publications
Student Women's Organization
Spirituality
As a Baptist college, CBC has both educational and religious requirements for students. Full-time students enrolled in CBC are required to attend Chapel. This policy has been changed recently, now requiring all full-time students to attend eleven Chapel services per semester (however, there are certain exceptions). Students who do not adhere to this policy will be reprimanded with fines and/or loss of institutional aid. Many of CBC's policies reflect their religious beliefs and encourage students to act accordingly.
References
David McCollum, "Central Baptist College Joines the NAIA," Log Cabin Democrat, October 5, 2009.
External links