Center Theater
From FranaWiki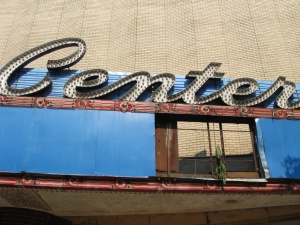 The Center Theater is a defunct "first-run" movie house at 407 Main Street in Little Rock, Arkansas. Plans for the Rowley United-owned theater were first announced on June 20, 1948. The theater was designed by local architects Frank Ginocchio and Edwin B. Cromwell. The Center Theater was built on the site of the old Royal Theater.
The 1,252-seat Center Theater closed its doors for the last time on March 31, 1977, reopening that same year as the Hot Air Balloon Theater, a children's theater, during the period of Metrocentre mall improvements. The Hot Air Balloon Theater survived several years under the leadership of Jim Porter before folding. "We named it the Hot Air Balloon Theater," Porter remembered later, "because I came up with the idea of dropping a hot-air balloon down from the ceiling of the theater. We had a rope that we could use to raise and lower the hot-air balloon. The basket of the balloon had little prizes in it, candies or whatever, and that would be a highlight of the afternoon."
The Center Theater is one of five former movie houses located along Main Street. The others were the Capitol Theatre, Main Theater, the New Theater, and the Roxy Theater.
The Center Theater is owned by Stephens Group chief executive officer Warren Stephens, who purchased the structure in 2001 for $125,000. A $2.5 million plan to turn the building into a 281-seat dinner theater venue, art-house theater, or make it the anchor for a new downtown "theater campus" is apparently moribund and the theater is slated to be torn down in 2009.
References
Kyle Brazzel, "Top of the Rock: A Trial Balloon's Ride as Sequel to the Center," Arkansas Democrat-Gazette, March 15, 2009.
Elisa Crouch, "Like Rip van Winkle, Downtown Waking Up," Arkansas Democrat-Gazette, April 19, 2001.
Leroy Donald, "Let's Stroll Down the New Mall ...," Arkansas Gazette, October 2, 1977.
Bill W. Hornaday, "LR Again Rolls the Dice: Downtown Revival $500 Million Price Tag on Main Street Plan a Hitch, and Developers Aren't on Same Page," Arkansas Democrat-Gazette, May 2, 2005.
Kane Webb, "Beauty and Blight: Little Rock's Diametrical Downtown," Arkansas Democrat-Gazette October 7, 2007.
External links