Barton Coliseum and State Fairgrounds Complex
From FranaWiki
The Barton Coliseum and State Fairgrounds Complex is home of the Arkansas State Fair as well as numerous other traveling festivals and annual shows. The State Fair and Livestock Show is controlled by the Arkansas Livestock Show Association.
T. H. Barton Coliseum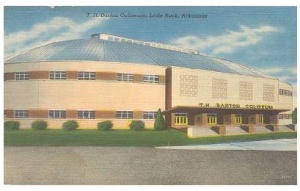 Barton Coliseum is a multi-purpose arena with seating for 7,150. Regular events include monster truck shows, motorcycle acrobatics shows, and rodeos.
The University of Little Rock Trojans basketball and Arkansas GlacierCats ice hockey teams once played home games in the arena. The Trojans later played in ALLTEL Arena before moving to the Jack Stephens Center in 2005. The coliseum has played host to Sun Belt Conference basketball tournaments on three occasions. Barton Coliseum is currently home of the Arkansas Impact basketball team.
Many music events occurred at Barton Coliseum before the completion of ALLTEL Arena in 1999. Barton was a destination for the 1976 KISS-Destroyer tour, 1981 Rush-Moving Pictures tour, 1983 Iron Maiden-Piece of Mind tour, 1984 Van Halen-1984 tour, 1991 Metallica-Black Album tour, and 2000 Korn-Follow the Leader tour.
Arkansas State Fairgrounds
The fairgrounds is located on 135 acres of land at 2600 Howard Street in Little Rock. The State Fair takes place each year in October. An estimated 441,000 people attended the fair in 2007.
In the depths of the Great Depression, in June 1936, Franklin Delano Roosevelt delivered a speech at the fairgrounds in commemoration of the Arkansas state centennial.
Some buildings at the fairgrounds were constructed in the 1940s and 1950s.
References
External links