Balch Motor Company
From FranaWiki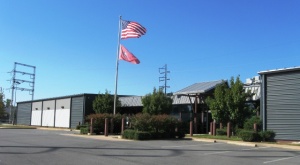 Balch Motor Company is a former Oldsmobile dealership at 1000 La Harpe Boulevard in Little Rock, Arkansas. The dealership was established by Fred Balch in 1936 on Broadway in the downtown district. The dealer later moved to the corner of Chester and LaHarpe streets.
Fred Balch III, grandson of the founder, joined Moses Nosari Tucker Real Estate as a sales and leasing agent in March 2001 after General Motors discontinued the Oldsmobile line.
The former dealership became the temporary home of the Clinton Library Archives in December 2000. The dealership was known to the National Archives as the Clinton Presidential Management Site until the Clinton Library opened in November 2004. The building is now a warehouse for the Department of Arkansas Heritage.
References
Elisa Crouch, "Clinton Archivists Get Keys, Slide into Balch Building," Arkansas Democrat-Gazette, October 17, 2000.
External links