Argenta Drug Store
From FranaWiki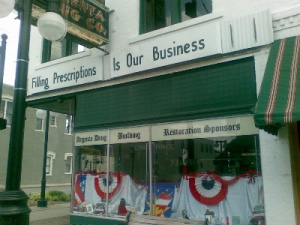 The Argenta Drug Store is the oldest continuously operating pharmacy west of the Mississippi River. The store is located at 324 Main Street in North Little Rock, Arkansas. Argenta Drug is housed in the oldest brick structure in the city.
Argenta Drug Store was founded in 1880 by C. J. Lincoln and Solon Humphries. Lincoln also owned the C. J. Lincoln Wholesale Drug Company in Little Rock. the store was owned for a time by Louis King, who also owned the King Drug Company at the intersection of Fifteenth and Gaines streets in Little Rock. Around 1921 the store was purchased from King by Joseph Karl Poch and Lona Wipperman Poch.
In 1986 store pharmacist David Chu purchased Argenta Drug from pharmacist John E. Cook and wife La Rue Poch Cook. The Cooks had operated the store since 1946, and became owners in 1966 after purchasing the store from La Rue's parents Joseph and Lona. A soda fountain was removed in an 1954 remodel.
References
John Woodruff, "[no title]," Arkansas Democrat-Gazette, January 8, 1986.
External links