Argenta City Administration Building
From FranaWiki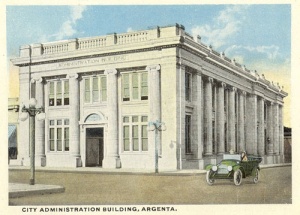 The Argenta City Administration Building is located at the corner of Third and Main streets in North Little Rock, Arkansas. North Little Rock was called Argenta until 1917. The Beaux Arts-style building continues to serve as the central government office for the city, and is now known as North Little Rock City Hall. The building contains the North Little Rock Mayor's Office, the North Little Rock City Council Chamber, and the North Little Rock City Clerk's Office.
Plans for the Argenta City Administration Building were drawn up in 1904 by architect John L. Howard at the request of then-mayor W. C. Faucette. Faucette asked Howard to model the building after a St. Louis bank. The building came under construction by Schmelzer and Schay in 1914. It is said that the foundation was laid on quicksand, which necessitated a special hull of concrete layered with cotton bales. The building was dedicated on July 5, 1915.
The Argenta City Administration Building originally held the North Little Rock Police Department, which moved to a separate facility in 1961.
References
External links