Ancient Order of United Workmen
From FranaWiki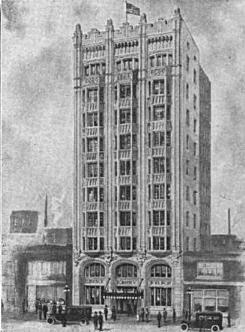 The Ancient Order of United Workmen (AOUW) was a fraternal benefit organization with a chapter in Little Rock, Arkansas. The society was founded in Meadville, Pennsylvania, in 1868 by John Jordan Upchurch. Upchurch hoped to reduce "all differences which may arise between employers and employees, and to labor for the development of a plan of action that may be beneficial to both parties, based on the eternal truth that the interests of labor and capitol are equal and should receive equal protection." The organization originally paid death benefits to dependents on a subscription basis, creating the first fraternal life insurance plan in the nation. Most local organizations also developed a lodge for member events. AOUW institutions borrowed heavily from Masonic traditions.
The state organization had a number of prominent members, including former Governor Charles Hillman Brough.
The Ancient Order of United Workmen Building was designed by architect George Richard Mann. Construction on the building began in 1912. The A.O.U.W. Building housed the national offices of the Women of the Ku Klux Klan (WKKK) beginning in 1923.
References
External links