Difference between revisions of "Ralph L. McCoy Jr."
Line 13:
Line 13:
 

*Purple Heart

 

*Purple Heart

 

===Death===

 

===Death===

 
+
---
Revision as of 12:06, 30 March 2017
ETN2 Ralph Lindsey McCoy Jr.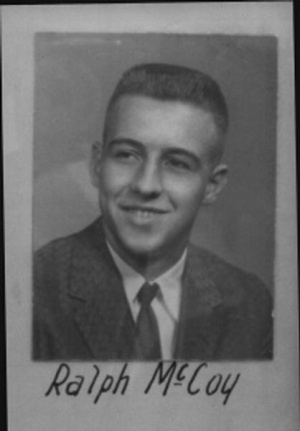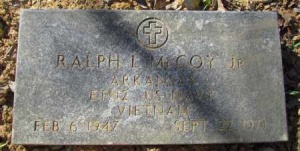 Personal History
Ralph McCoy, Jr. was born on February 6th, 1947 in Mayflower, Arkansas (Faulkner County) to parents Ralph Lindsey McCoy (1925 – 2012) and Lillian Fayrean (Dickens) McCoy. His father also served in the U.S. military. McCoy, Jr. was one of three siblings, including Jeffery Lynn McCoy and Jerry Virgil McCoy. He was a Protestant, non-denominational Christian.
Military History
Ralph L. McCoy, Jr. served as a Petty Officer Second Class (ETN2 (Electronics Technician 2nd Class)) in the U.S. Navy. He served four years, and at the time of his death, was serving with the unit at Usnavforv, Navsupact Saigon, Vietnam.
Awards and Medals
ETN2 Ralph McCoy Jr. was given the following awards and medals for his service:
National Defense Service Medal
Vietnam Campaign Medal
Vietnam Service Medal
Purple Heart
Death
ETN2 Ralph L. McCoy, Jr. died on September, 22nd, 1971 at the age of 25. After sustaining injuries from a Molotov Cocktail that was thrown by a Viet Cong, in Bien Hoa, South Vietnam near the Bien Hoa air base, McCoy, Jr. was transported to Camp Zama, Kanagawa, Japan, where he lost his life. He is honored at the Vietnam Memorial on Panel 2W, Row 24.