Paul W. Kimbrough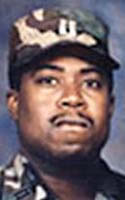 Lieutenant Colonel Paul W. Kimbrough
[Unknown D.O.B.] – October 1, 2003
Personal History
Lieut, Col. Paul W. Kimbrough was from Little Rock, Arkansas. A University of Central Arkansas foundation scholarship for African American students studying political science or business is endowed in his honor.
Military History
Kimbrough was assigned to the 416th Engineer Command, Team 28, of the U.S. Army Reserve in Fort Benning, Georgia. He participated in Operation Enduring Freedom.
Death
Army LTC Kimbrough died in Incirlik, Turkey of non-combat related injuries after being medically evacuated from Baghram, Afghanistan.
Gallery
References