Micheal V. Johnson Jr.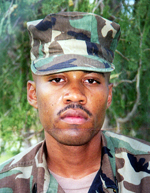 Corps Michael Vann Johnson Jr
March 31, 1977 – March 25, 2003
Personal History
Michael V. Johnson Jr. was born in Little Rock, Arkansas and graduated from the University of Central Arkansas. He and his wife, Cherice, lived in San Diego, CA.
Military History
Johnson served in the Navy for three years. His last unit was the 5th Marine Regiment and his last rank was Hospital Corpsman Second Class Petty Officer.
Death
Johnson was killed March 25th while attending to wounded colleagues in Iraq.
Honor and Awards
On Sept. 17th 2003 a portion of the Marine Corps recruit depot dedicated a portion of their clinic in honor of Michael Johnson.
Gallery
References