Micheal R. Sturdivant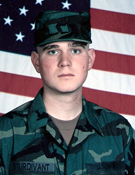 Sergeant Michael Reuben Sturdivant
March 9, 1987 – January 22, 2008
Personal History
Sgt. Sturdivant was born in Mission Viego, CA. He moved to Conway, AR and received his high school education through a home school program there. He attended Pulaski Technical College in Little Rock, but two years later transferred to the University of Central Arkansas where he studied mathematics.
Military History
In 2004, he received an appointment to the U.S. Naval Academy, but chose to enlist in the U.S. Army Reserve instead. On March 29, 2005 he joined the U.S. Army Reserve and attended the Special Warfare Training Center at Fort Bragg, North Carolina, as the youngest soldier to attend and graduate from there. He was a trained Civil Affairs Sgt. and was assigned to the 431st Civil Affairs Battalion, North Little Rock, a sub unit of the U.S. Army Civil Affairs and Psychological Operations Command.
Death
Sturdivant was scheduled to return home just two weeks prior to his death. On January 22, 2008 Sgt. Sturdivant died in Kirkuk, Iraq, of injuries sustained in a vehicle accident during convoy operations at the age of 20 years old.
Gallery
References