Dustin L. Kendall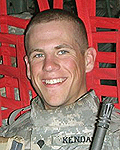 Corporal Dustin Lee Kendall
June 30, 1984 - January 15, 2006
Personal History
Dustin Lee Kendall, a son of missionaries, was born in Conway, Missouri to Penny J and Brandi Kendall. Kendall grew up with three sisters and one brother. In 2002, he and his family moved to Bryant, Arkansas. He attended Faulkner University in Montgomery, Alabama then went to the University of Central Arkansas in Conway, Arkansas. Penny J and Brandi eventually moved to Europe four years later, but Dustin stayed in Bryant to continue attending UCA. An interesting fact about Dustin is he considered a career designing golf courses. Colleagues of Dustin said he was a favorite amongst regular customers at the Ruby Tuesday restaurant in Bryant.
Dustin's family describes him as a charming man with a great smile. He loved golf and driving too fast, which is why he wanted to design golf courses as a career. He always looked out for the forgotten, whether they were people or animals. His eldest sister, Courtney, said, "He could get out of trouble with a wink and a smile, and loved being the center of attention while telling stories and being silly."
Military History
At 21 years old, Dustin signed up for active duty after two years in the Army Reserve. Corporal Kendall was deployed to Iraq in November 2005. He was assigned to the Army's 1st Battalion, 68th Armor Regiment, 3rd Heavy Brigade Combat Team, 4th Infantry Division in Fort Carson, Colorado.
Death
On January 15, 2006, Corporal Dustin Kendall was killed in action in Baquah, Iraq while participating in [Operation Iraqi Freedom]. His Humvee struck an M1A2 Abrams tank and rolled over. He is currently buried in Arlington National Cemetery.
Gallery
References