Memorial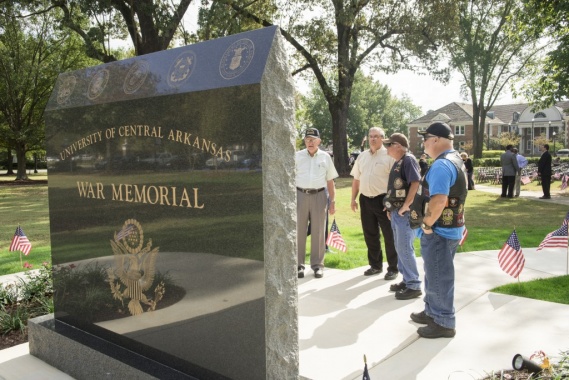 Jimmy Bryant, director of archives at UCA, and UCA President Tom Courtway met to discuss whether or not it was possible to uncover the names of all the past fallen UCA alumni veterans. After a lengthy process, Bryant and his team managed to compile a list of the fallen veterans for each of the conflicts.
On October 4, 2016 UCA installed a war memorial on at the north end of McAlister Hall to honor fallen veterans who were alumni of the university.
The memorial is nearly 7 feet tall and 7 feet wide, weighs 7,000 pounds, is made of black granite, and has lighting to illuminate it at night. It is nearly 60 percent larger than that of the previously constructed World War II memorial.
The Memorial contains the names of fallen UCA alumni from World War I, the Korean War, Vietnam War, Somalia and Global War on Terror.
There is plenty of space remaining on the memorial for as UCA President Tom Courtway said, "While we pray and hope additional names will never be added, there is room to do so. "
The north side has the name of the memorial and the emblems of the five branches of the U.S. Armed Forces. While the south side has the names of the wars with the names of UCA alumni who died in those wars.
The War Memorial was dedicated on November 3, 2016 during UCA's Veterans Day celebration ceremony.